Hey Friend!
Be inspired to build your passion.
Let me guess...
You have a 

brilliant idea

to sell children's teethers, pacifier leashes, clothing, and other children's products online, at craft shows, or even grow into a brick and mortar shop!

You just heard this word "compliance" and you are now

scrambling to catch up

and are even more overwhelmed with this business idea than before.

You are 

uncertain

about what to believe because your Google-ing ability isn't quite up to par for this kind of topic.

You are a parent and really just

don't have time

to search it all yourself.

You are trying to help cover bills, 

get out of debt

, pay for extracurriculars, or save for a small (or big!) vacation with your business idea.
I've pulled together just the things you need to build your passion and create that shop you've been dreaming of.
I started right where you are over 10 years ago. I was beginning to make cloth diapers for my newborn and got the "business advice" to start selling. I thought, "Wow! Why not?!"
Long story short, I fell head first into these regulations and was SO overwhelmed with how many agencies had their fingers in such a small little thing I was making! As I learned something new, I told all of my maker friends about it and eventually started a whole group about it.
Thousands of members and 7 years later, after finishing grad school and having 4 kids, I finally started to offer my services helping hundreds more individually. I can't wait to start helping you too!
---
Many of us (yep, me included) start out as a hobby with the "business advice" from their friends that they should totally sell this amazing thing they've created. They jump in, head first, and start making more of the thing and list it on Facebook, Shopify, ETSY, and craft shows hoping to at least cover their hobby costs.
Sound familiar? What we tend to forget about, or not know about, are the requirements for our business.
Wouldn't it be nice if there was someone that could guide you and answer questions as they pop up?
That's what this community is all about.
Here's what you get
Total value of over $1000 for just $9/month
This community is:
a safe space for accountability & support.

a business assurance policy.

a huge peace of mind when you are worried about the what ifs.
You have me, right there, waiting for you.
No more Google-ing hoping that you are finding the right information from the right places.

No more hoping that responses from fellow makers are correct.

No more worrying about the "what ifs" or "what happens ifs".

No more scrambling or taking weeks or months trying to put it all together.
Do you need to get this product out now so you can pay bills, get out of debt, quit your W2 job, bring your spouse home, have some vacation money, etc.?

Are you prone to worrying about the 'what ifs'?

Do you learn better with audio/visual methods over reading books?

Do you want solid support, recognition, and celebration, for all of your work?

Do you want a place to belong with others who understand the feelings you have in your business?

Do you love to encourage, support, and watch other makers grow too?
If you answered 'yes' to any of the above questions, this can be the home for you. If you answered 'yes' to 3 or more of the questions, The Makers' Community is definitely the home for you!
This community makes sure you have a legally sellable product, provides the peace of mind that you have your I's dotted and your T's crossed, and gives you a safe space to ask questions and learn through pre-recorded video lessons, workbooks, and live video lessons and chats.
You'll also get the benefit of a home where you'll gain encouragement, recognition, and understanding of all the trials and successes of business and life.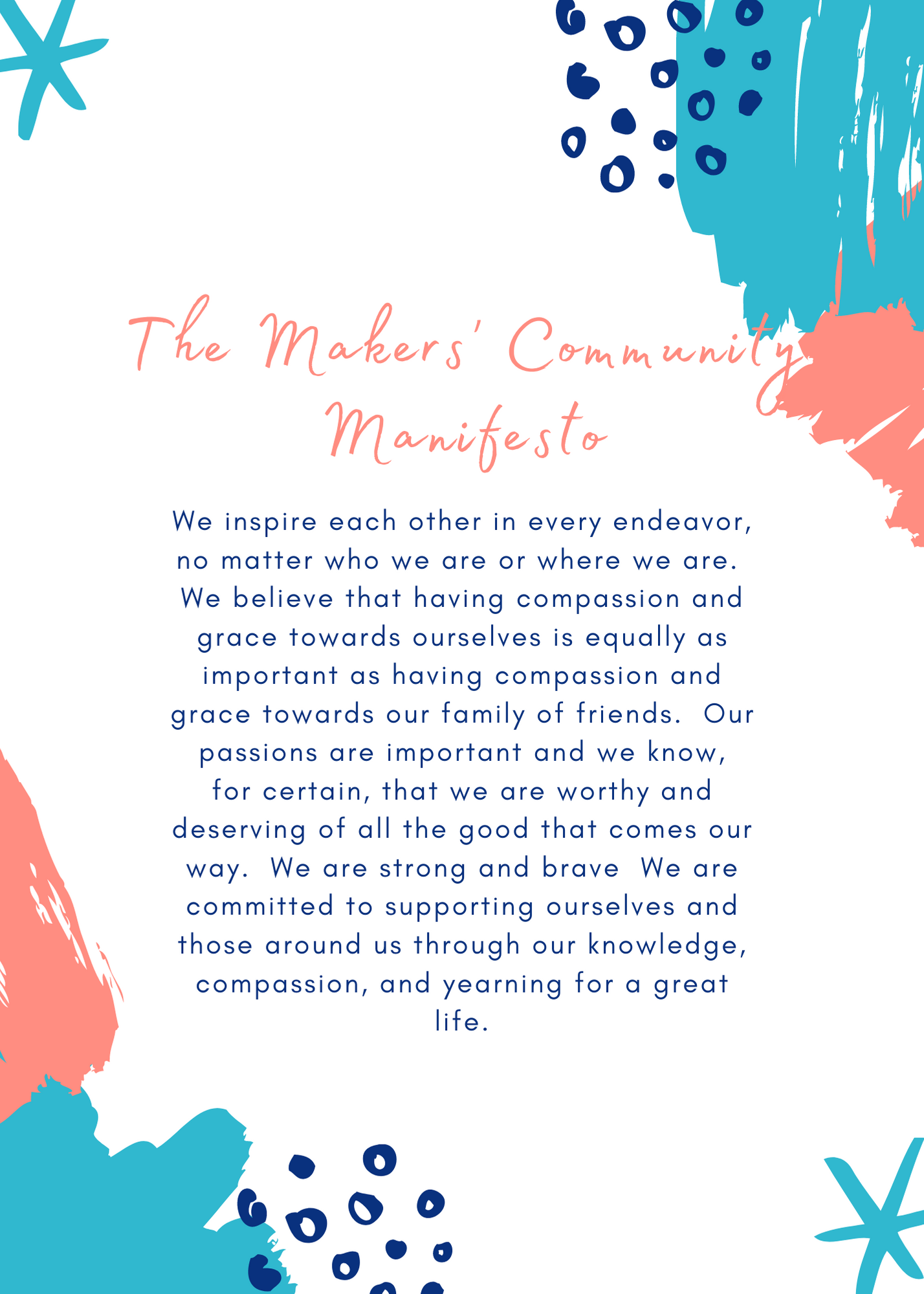 We inspire each other in every endeavor, no matter who we are or where we are.  We believe that having compassion and grace towards ourselves is equally as important as having compassion and grace towards our family of friends.  Our passions are important and we know, for certain, that we are worthy and deserving of all the good that comes our way.  We are strong and brave.  We are committed to supporting ourselves and those around us through our knowledge, compassion, and yearning for a great life.
Here are some words of love from others!
"Always helpful in getting me the answers I seek. If you are looking for a direct way to get the inforamtion you need to legally run your handmade business, this is it. I can't tell you how many confusing hours I spent reading things I didn't totally understand until I was recommended this program. It saved me a huge amount of time and gotten rid of a lot of stress. It's truly one of a kind." Amanda Jackson
"Misty is like a secret weapon in your back pocket. I recently launched a children's toy and was getting conflicting inforamtion from suppliers and labs. I reached out to Misty and paid for some email correspondence. Misty was super knowledgable and very responsive. She made me feel a whole lot more confident in my testing strategy and material choices." Ashley Flynn-Corbin
"Very knowledgeable and helped me start a compliant business. There are no words to describe my gratitude." Brandi Swink
"Misty is an absolute diamond in the rough when it comes to crafters/makers/small businesses navigating the world of product compliance. She is friendly, thorough and extremely knowledgeable!" Carrie Shaltz Haslup
"Misty Henry has saved my sanity on more than one occasion! Trying to navigate the myriad of rules and regulations governing a small handmade business was overwhelming until I stumbled onto Misty's services. Her wealth of knowledge regarding product safety requirements has made this learning process so much easier." Elizabeth Purvis
"Misty is fantastic! She has answered so many of my questions. She goes above and beyond to make sure everyone selling baby items does so safely." Janelle Schuster
"Misty goes above and beyond helping makers understand the requirements for selling general and children's products. I recommend you hire Misty for all of your product safety testing, investigation, and training needs. Thank you for being an amazing resource for makers of all sizes!!" Kimberly Stanke
"Misty is an amazing source of reliable and accurate information. Her booklets make everything so much more simple than you'd think possible! If you have not joined The Makers Resource Shop, you need to. Misty will help you become legit." Mary Beth Vogel
"Misty is amazing! She is so helpful with being in compliant with products, very responsive, and a great resource! I'm so happy I found her and will continue using her for my small business. I definitely recommend her!" PJ Sungthei
"Misty is always there to help if you have any questions. She is very very knowledgeable about what she does. I am so happy I had/have her when I was trying to set up my business. And even though I am up and still run her for all the questions I come up with. I recommend her to everyone who is looking to be compliant." Robin Hamm
Here are a couple other reasons to join.
Community Support
I honestly can't say enough good about the community we've grown.  Every member exemplifies #CommunityOverCompetition.
Compliance is confusing!
With the resources and Q&As available to you, and me walking right next to you, you'll find the confusing web on research straightened out.
Are you ready to sell safe products?
Yes! I'm ready to have access to over $1000 of information for just $9/m!